About the Toyota GR Corolla
Why do you want to buy a 2023 Toyota GR Corolla?
I've had a handful of turbo AWD 4-cylinder cars in my life. For the most part they always brought me joy when behind the wheel. For one particular vehicle the more speed parts I put on it the slower it got. I don't want to repeat that with my GR. Cheap/Fast/Reliable - You only have 2 choices unfortunately. Therefore, I choose Fast/Reliable.

The 2023 Toyota GR Corolla fits my checklist - turbo, AWD, 3-cylinder, and as an added plus it is a hatchback! I like the rareity of it as well. It will probably take 4-6 months from the time of purchase to get it from Japan where it will be made. Unless I'm at a local car show I probably won't ever see another one. A total of 6,600 are predicted to be built worldwide for 2023.
Corolla WRC Heritage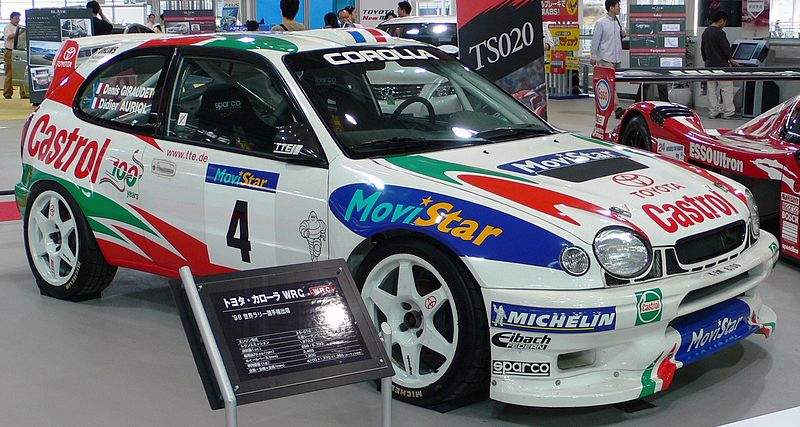 GR Corolla Highlights
1.6 liter G16E-GTS turbocharged & intercooled 3-cylinder engine. Aluminum block and head with integrated exhaust manifold. DOHC valvetrain, 4 valves per cylinder, twin independent variable camshaft timing. Single-scroll ball-bearing turbocharger. D-4S direct/port fuel injection. 10.5:1 compression ratio. 98 cubic inches (1,618 cubic centimeters). Output: 300 HP at 6500rpm, 273 lb-ft between 3000-5500 rpm. Power is piped through a unique triple exhaust that's designed to reduce backpressure for maximum power delivery. The G16E also benefits from motorsport technologies that maximize performance, including multi-oil jet piston cooling, large-diameter exhaust valves and part-machined intake ports.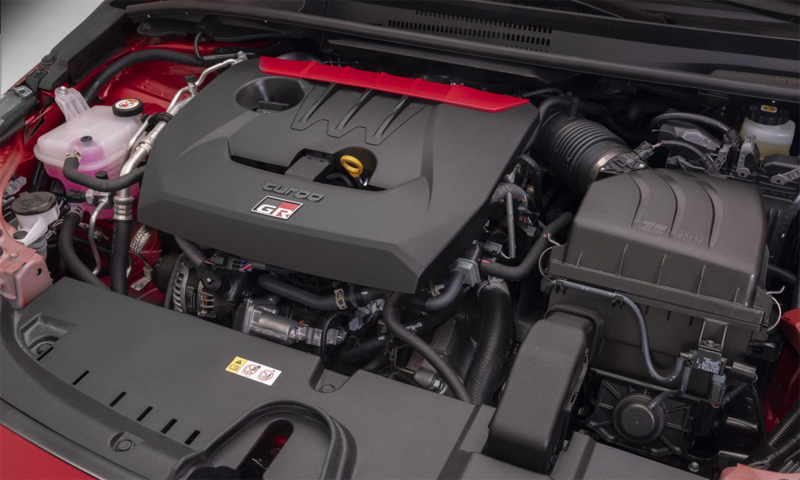 The standard GR-FOUR All-Wheel-Drive (AWD) system in the GR Corolla employs an electronically controlled clutch pack mounted in front of the rear differential for torque distribution, but unlike some of the demand-based systems found on most boring crossover SUVs, the GR Corolla's system drives all four wheels all the time. The system allows the driver to rotate a knob to select the front/rear torque split. The everyday default is a 60F/40R split, and there's a rear-drive-heavy 30F/70R setting specifically meant for those winding road adventures. The 50F/50R setting is perfect for track driving, where too much tail-happiness can sacrifice lap times. But these torque splits are not set in stone, as the GR-FOUR system is able to tweak the distribution based on real-time feedback of how the GR is actually behaving in response to changing driver inputs. GR Corolla will be offered exclusively in a manual transmission, staying true to its hands-on rally racing roots.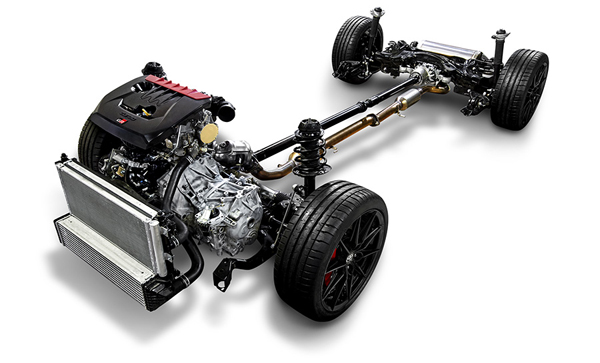 The GR Corolla Circuit Edition is also equipped with front and rear Torsen Limited-Slip Differentials (LSD), which offer enhanced cornering performance and grip with control of left and right-hand drive torque distribution on the front and rear axles. Front and rear LSD is available as part of the Performance Package on the Core grade, with 4WD open differentials standard.
With the twist of a dial, GR Corolla can adjust four-wheel drive performance to fit the driver's needs. For every-day situations, drivers can set a front/rear torque distribution of 60:40; for a more sport setting, balance can shift to the rear, with 30:70 distribution for a fun-to-drive quality on winding roads and circuits; and for maximum stability a 50:50 setting can be used for fast, competitive track driving on circuits or special stages. In each mode, the torque balance will automatically adjust in response to the driver's inputs, vehicle behavior and road or track conditions.
GR Corolla will come in two grades, Core and Circuit Edition.

The Core Grade will be available later in 2022 in white, black and Supersonic Red. It will have a color keyed roof with a black rear lip spoiler, "GR-FOUR" stamped side rockers and wide fender flares. On the inside, seating for five will come with GR logoed fabric sport seats.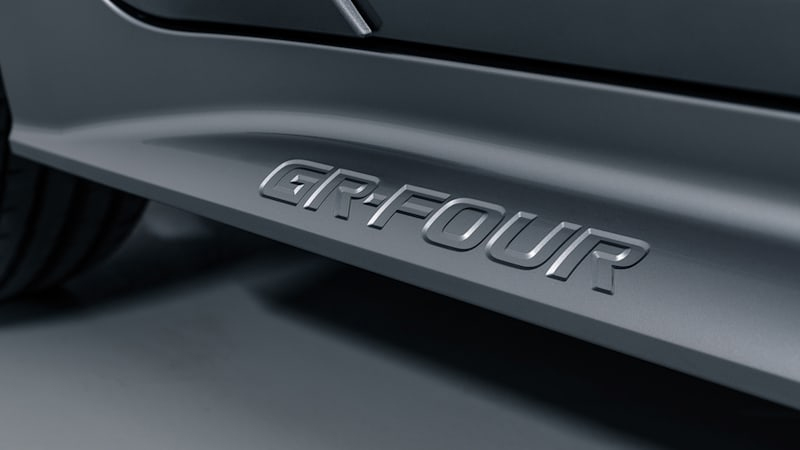 The Circuit Edition will be a limited-run model available in 2023. Standard colors are white, Supersonic Red and Heavy Metal with the same "GR-FOUR" stamped side rockers and wide fenders as the Core. It adds a forged carbon fiber roof, vented bulge hood and a sporty rear spoiler, Brin Naub® suede-trimmed sport seats with red accents and a launch-year-exclusive Morizo signed shift knob.
Wide, Rigid and Designed to Handle
To achieve control worthy of the GR badge, a highly rigid body was specially constructed for GR Corolla. Based off the GA-C platform, it produced handling performance that rewards the driver. Enhanced rigidity comes from significantly more weld points in the frame, particularly to strengthen joints. Further gains are made through extensive use of structural adhesive, increasing the joint rigidity between component parts.

The front suspension is a MacPherson-type strut design that offers both light weight and firm handling, maximizing the tires' grip potential. Made up of circuit-tuned coil springs, shock absorbers and stabilizer bars, the front suspension is designed to deliver all the engine's power to the road and provide optimum cornering capability on all surfaces. The rear suspension uses a double-wishbone type multilink system that accommodates the AWD system's goal of maximum agility and stability.

Wide tread tires ensure high cornering performance while maintaining the excellent high speed stability of the GR Corolla's 103.9-inch long wheelbase. It wears Michelin Pilot Sport 4 tires 235/40R18 on the both grades and comes equipped with 18-in. gloss-black 15-spoke cast alloy wheels on both the Core and Circuit Edition.

Braking power comes from opposed, fixed-caliper disc brakes with 14 x 1.1-inch ventilated and slotted rotors outfitted with 4-piston aluminum calipers on both grades, additionally the Circuit Edition caliper is red painted with GR logo. At the rear, 11.7-in. x 0.7-in. ventilated rotors with 2-piston aluminum fixed-caliper disc brakes with red-painted calipers and GR logo are standard on the Circuit Edition.
History of Toyota Corolla